It was the summer of 1964 that my twin brother Bill and I met our mother's parents in Offenbach, Germany for the first and only time. It was also our first airline flight and trip abroad by ourselves, though carefully organized by our mother. We were our maternal grandparents' only grandchildren, out of four, to ever meet them. The timing was fortuitous; two years later our Offenbach Oma passed away and Opa followed one year later.
Prior to our visit, Bill and I heard so many stories from Mom over the years about how strict her upbringing was during desperate times, and how harsh a disciplinarian her father Wilhelm could be. All the while, her mother Karoline retained a quieter, sympathetic demeanor. As hormonal sixteen-year-olds, we surmised that some of Mom's recounted tales were overembellished. We were to learn firsthand the actual nature of our newly introduced Opa and Oma.
From what I recall, I believe our trip spanned about three weeks, to accommodate a week each with different relatives. We stayed the first week in Offenbach, the second in Mühlheim, and the third in Berlin. At this point in time, Mom's eldest aunt Amalie, twelve years older than Mom's mother Karoline, was the first relative to welcome us. Her apartment was easy walking distance to our "new" grandparents, so that worked out well for the arranged week. Amalie had a teasing, twinkling sense of humor that easily won us over. She would send Bill out in the morning to pick up some warm Brötchen und Wurst from the local Bäckerei und Metzger for a traditional German breakfast, of sorts. Bill was a heartier soul than I. Tante Amalie would hang out the window and watch for his return with amused cackles of encouragement. Her generous spirit predominated throughout our stay with her. She was obviously tickled to finally be in the presence of her only niece's children.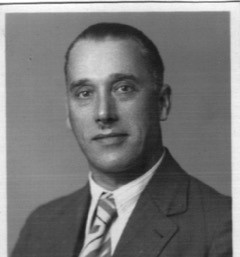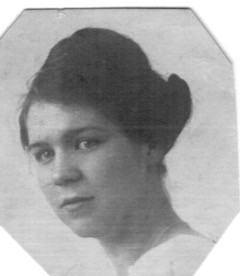 In all the years prior to our trip to Germany, the main mementos that Oma and Opa had of us were a baby photo album with identifying details (which I now have), some later childhood photos, a few small paper art projects from our early youth and, of course, extensive correspondence from Mom. Now the moment of meeting in the flesh was upon us. On the first day of our visit to Oma and Opa we were nervous with anticipation. A gemütlich Kaffeeklasch was planned, and we bought a colorful arrangement of flowers to bring to our hosts. We wore our best visiting clothes, and on our walk along the way, we took in the sites of the neighboring dwellings and surrounding manicured mini-gardens. Flowering window boxes were also impeccable and a point of pride at German households. As we neared our destination, we inhaled the scene with a sense of our mother's history and fortified ourselves for the ultimate face-to-face encounter. It felt a bit like a pending audition. As we knocked and were received, we all were overwhelmed by the moment. Oma and Opa were demonstrably proud and touched to behold their grandchildren for the very first time. We summoned our best German to communicate as clearly as possible and were relieved that we seemed so pleasing to their eyes. In many ways we felt on exhibit for an admiring inspection and were self-consciously aware of their consuming examination. Gradually, we felt we passed the initial test and looked forward to our next invitation the following day. That, too, went well, with a bit more probing on Opa's part.
After the third visit, when we mentioned that we would need to leave a bit early to meet up with another relative, Opa expressed his discontent with a raised voice. That was when we saw unpleasant glimpses of what Mom had referred to about her father. In hindsight, I suspect this display was jealousy of others usurping our time together. Though we planned to come again the following day, he grumbled that he would need to be going out beforehand, but that it was fine to see our Oma. When the time came the next day, believe it or not, we hid around the corner until we saw him leave their apartment, and only then dared to visit with Oma. She was incredibly sweet and loving, but meek and obedient under his intimidation. It seemed clear to me that she had endured much with this man, not to mention her debilitating lifelong issue with ulcerated varicose veins. As the week progressed, we grasped the validity of Mom's character assessments and had a better sense of some of the reasons that may have perpetuated certain behaviors. Nothing could take the place of experiencing these dynamics for ourselves. It made our later conversations with Mom so much more understandable, once we returned home. As our week in Offenbach came to a close, we ended on a positive note, particularly with our Oma, and came to realize that our Opa's insecurity through much of his life had shaped him and his outlook. He had a need to maintain his pride and dignity at all costs.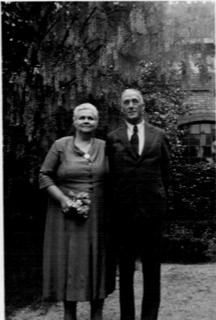 1950, My Grandparents' 28th Anniversary
Here was a man who was not able to support or live with his wife and only child, my mother, until she was six years old. Due to the dire conditions, there was no easy solution. Obtaining an apartment required employment and securing employment required an apartment. In the meantime, Opa lived with his parents, and Oma and my mother lived with Oma's parents. Mom was raised for the first six years of her life by her mother and her grandparents. Mom's fondest memories of her upbringing were during those early years. Once she and her parents were living together in an apartment for the first time, all the rules changed and life took on a different and heavier tone. There, Mom was always reminded of the seriousness of life, leaving her to tap into any inner play, creativity, and dreams on her own. As an adult she frequently commented that she never really had much of a childhood. We, her children, tried to compensate by indulging her wishes later in life.
As the following two weeks of our trip to Germany unfolded, we met three of Mom's cousins and their respective families. These cousins were the children of Amalie Lutz. Her daughter Gert and son-in-law Adolph Henrich lived in Offenbach, too, and practically adopted us with their loving kindness and generosity. They never had children of their own, though they would have been ecstatic to do so. I was fortunate to visit them again a number of years later, during a Christmas break while studying in Salzburg, Austria for my junior year abroad. Their down-to-earth love was palpable. Amalie's son, Willy Lutz, was the relative who had contributed his outstanding wedding baking, from his own oven, for my parents' small, intimate gathering on their wedding day, November 8, 1947. When we met, his wife and two adult daughters were most welcoming and excellent tour guides in their vicinity of Mühlheim.
In Berlin we met Amalie's other son, Jakob, and his family, who were warm and sincere in their joyful greeting. Among our many firsts, we were introduced there to a Berliner Weisse. It is the regional variation of a wheat beer style from Northern Germany dating from the seventeenth century. The chilled beer is served with a dash of raspberry syrup in a huge, hefty round glass with thick stem. Though we were far from drinking age in America, this did not matter in Germany.  It seemed perfectly normal for young teenagers to consume modestly in the company of their family. This appealed particularly to Bill. For all its flavor, the unsettling aspect of this libation was not the alcohol content but the bees that it attracted, with its tempting addition of syrup.
Aside from the nonstop European hospitality of food and drink, we visited more sites than I can remember. Among them was the ominous Berlin Wall. It was only three years since it had been erected, and I still maintain a vivid memory of it and being at Checkpoint Charlie. As a whirlwind three-week visit, there was much to digest.
Each family member we met embraced us into the fold. My brother Bill and I felt an encircling hug of life from all of them. We were experiencing an expansion of Mom's only-child world into a larger, happier, more loving realm. We all were like goodwill ambassadors. The reality of Mom's family finally came alive for Bill and me. For our two younger siblings, these particular relatives and grandparents would forever remain an abstraction amid tales of yesteryear.
Meeting this set of grandparents was a highlight that made a lasting impression. This moment in time revealed their greatest vulnerability and truest emotion; they were overwhelmed with joy to see us. For them we had transformed from two-dimensional baby pictures in an album into living, breathing, growing grandchildren. That will always remain with me.